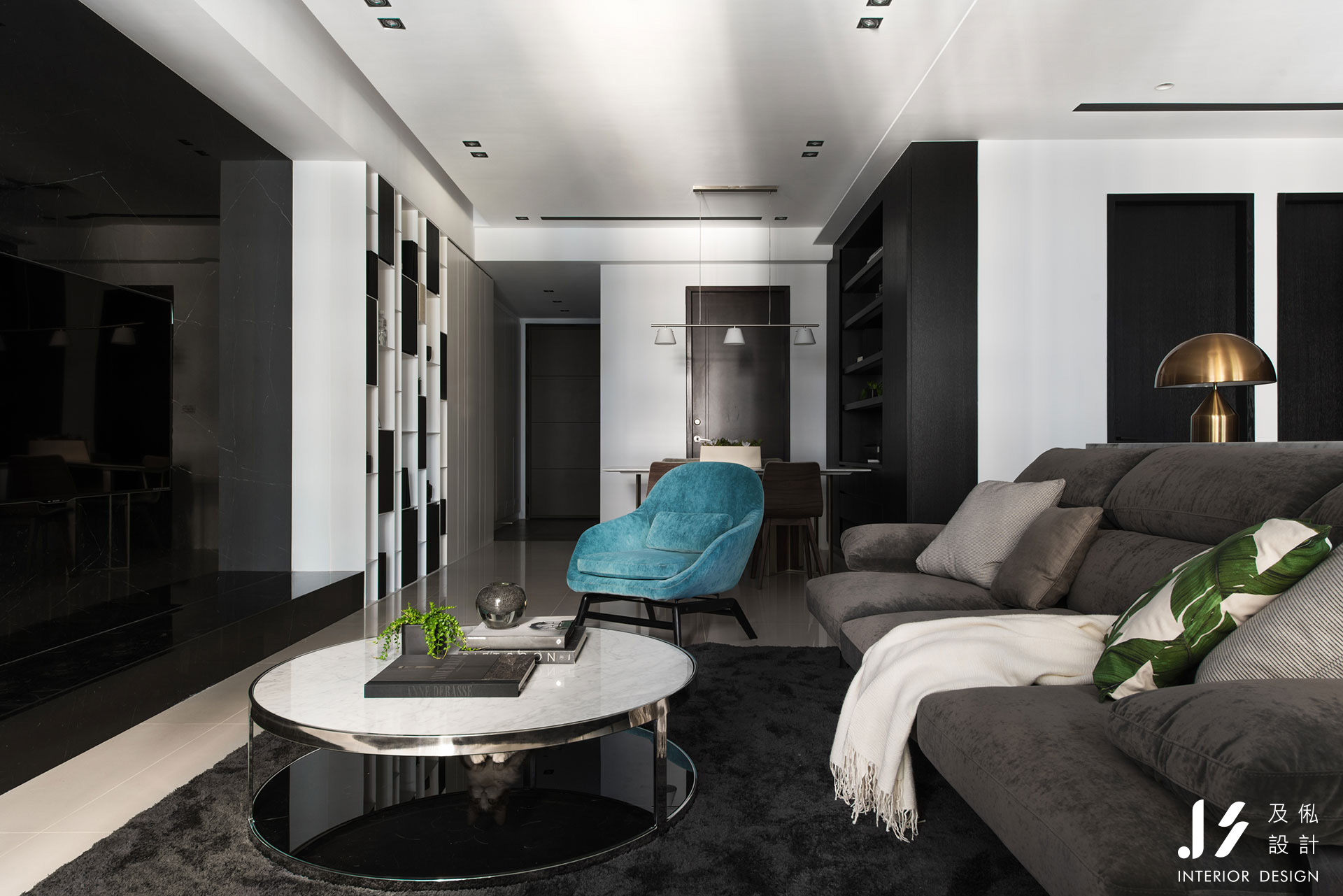 靜閱 Tranquil Life
RESIDENTIAL SPACE
喜愛讀書,就等於把生活中寂寞無聊的時光換成巨大享受的時刻——孟德斯鳩
閱讀是如此,在無涯的書海中,盡情馳騁自己的想像;
空間亦是如此,在有限的場域裡,打造居者獨有的世界。
兩者皆是生活中的巨大享受,給予忙碌於日常的人們,放鬆且靜心的時刻。
設計師在這個空間中捨棄溫潤的木質感設計,改以現代極簡的設計風格作為發想,以天然石材和鐵件展現居者的明快和簡潔個性;黑白灰的主色調搭配明亮的採光設計和跳色傢飾品,為空間創造出細緻的景深層次,帶來低調卻華麗的大器氛圍。
開放的公領域是設計師為屋主保留的彈性空間,此場域中最引人注目的是擁有彈性格間的書架,為了呼應屋主的興趣和需求,牆面多規劃成書架,以收納作為醫生職業而大量蒐集的海量書籍。有趣的是書架更兼具貓跳階梯的功能,讓屋主的兩隻愛貓能優雅地選擇發懶的休息地。
一貓、一書、一人、一景,所謂靜好歲月,不過如此。
"To love to read is to exchange hours of ennui for hours of delight." Charles de Montesquieu
Reading is to develop your imagination in the unlimited books.
So does interior design. It builds the owner's unique world in the limited spaces.
Both of them are huge enjoyments, which give the busy people a relaxing and peaceful moment.
The designer gives up the warm wood texture and adopts a modern simplicity style, which focuses on the stone and iron material to implicate the client's quick and tidy personality. The achromatic color scheme along with bright daylighting design and irrative colors furnishings create delicate layers and low-profile but gorgeous atmosphere.
The public area is a flexible space designed for the owner. The floating bookshelves are the most attractive in the area. In order to meet the owner's interests and requirements, the wall shelves allow the owner, who is a doctor, to collect a large number of books. Interestingly, the wall shelves can function as the steps for the owner's cats to jump on and as a place to take a rest.
A cat, a book, a person and the view are composed of the tranquil life.