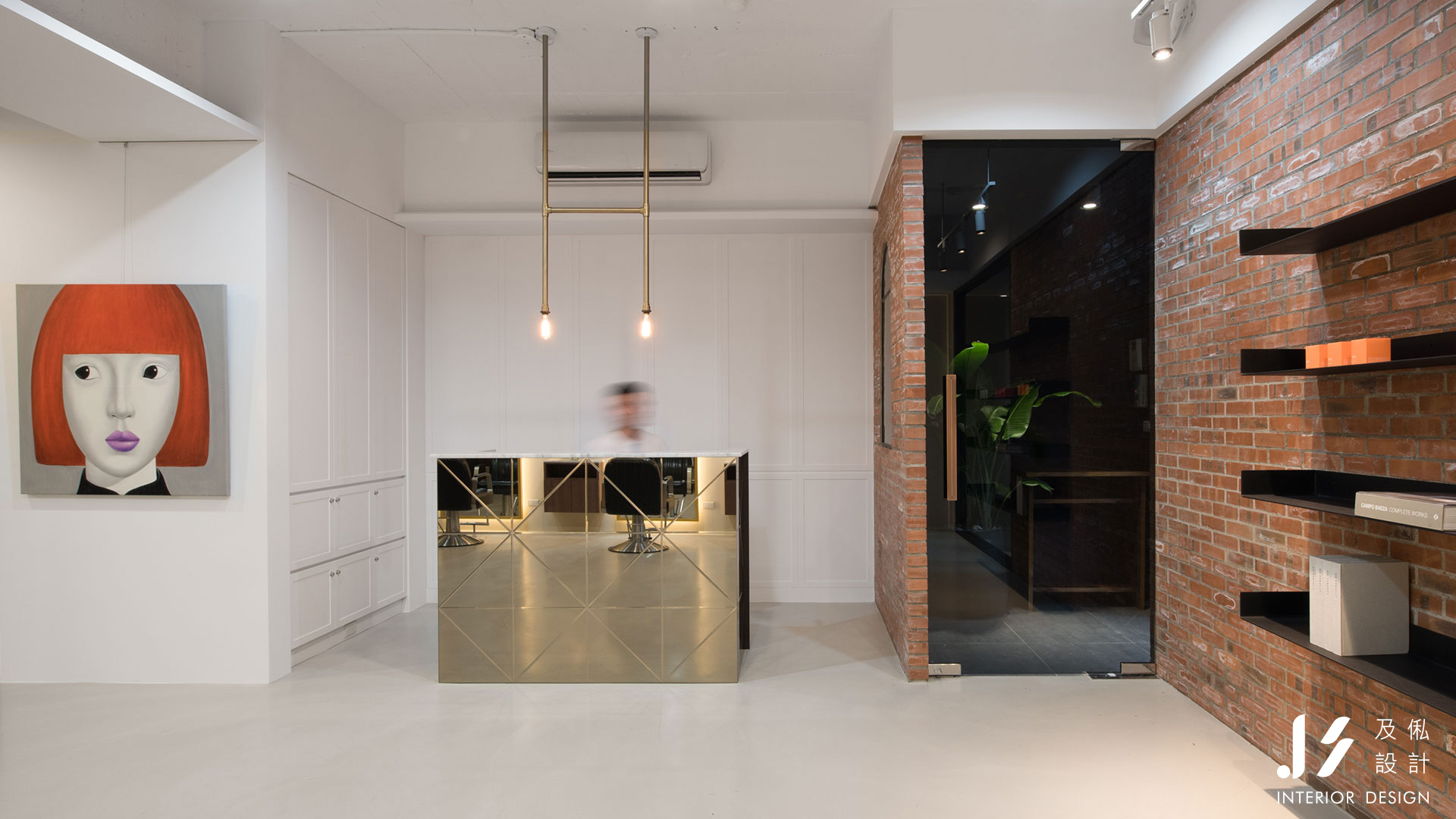 顏值 YZ Hair Salon
COMMERCIAL SPACE
熙來攘往的街道、住宅林立的市中心一隅,是一處風格獨具的靜謐空間。
室內設計與造型設計同為專屬的訂製服務,這個專為高端品味客戶服務的全新沙龍品牌透過簡潔俐落的空間樣貌,帶給每位打開門的貴賓不僅是心曠神怡的氛圍更提升了對於接下來服務的期待感。
詩人池田大作曾說過:「藝術與文化能鼓舞並紓解疲憊的心靈,從內在解放人心。」
在這個沙龍空間中第一眼注意到的即是牆上的藝術畫作,不僅以硬體設計營造質感氛圍,設計師更以獨到眼光遴選了多件藝術品點綴於空間中,除了畫龍點睛的註釋了品牌形象,更賦予這間時尚沙龍與眾不同的個性。
深入探究空間細節,可發現大片的紅磚面、細緻的金屬線條,輔以藝術作品的點綴,別於一般沙龍過於強烈的視覺,「YZ顏值造型」所要傳達的是俐落不造作的風格,從硬體到軟裝都審慎地緊扣現代主題。室外,比例精準的以落地窗延伸放大空間量體;彎進紅磚牆的玄關,室內光景則透過金屬質材、石皮與純白視覺,創作出現代極簡的時尚況味。
一瞬彷若身處日本南青山區的設計空間,業主與設計師的完美配合,只為了透過服務與設計,給予每一位走進「YZ顏值造型」的客人,發自內心的感動。
In a corner of downtown area with bustling streets and clustered residential buildings sits a quiet space in a unique style. Featuring exclusive customization services in its interior design and hairstyling design, this new hair salon is especially crafted to offer services to customers with fine taste, and through the simple and neat look, it not only provides a relaxed atmosphere but raises the anticipation to the coming service for each guest entering the door.
The poet Ikeda Daisaku once said," Art and culture can inspire and relieve the exhausted mind, generating an inner liberation." In this salon, one will first notice the paintings on the wall. In addition to the creation of quality ambience with hardware design, the designer also selected a number of works of art to adorn the space with his own unique taste and insight, which adds the finishing touch to the interpretation of brand image and assigns a distinctive identity to this stylish salon as well.
Taking a closer look at the details in the space, it can be found that extensive red brick surface and meticulous metal lines, supplemented by the embellishment of works of art, make it different from the overstated visual impression in general hair salons. What is conveyed at YZ Hair Salon is a neat, unpretentious style, which is closely linked to the modern theme from hardware to software. In the exterior, floor to ceiling windows in precise proportion are installed to extend the perception of space. Turning to the entrance in red brick wall, the interior scene is created in modern minimalist style by means of metal material, stone leather and pure white look.
At first glance, one seems to walk into a design space situated in Minami-Aoyama, Japan. The perfection coordination between the shop owner and the designer is simply to make every guest stepping into YZ Hair Salon feel deeply touched through the services and the design.