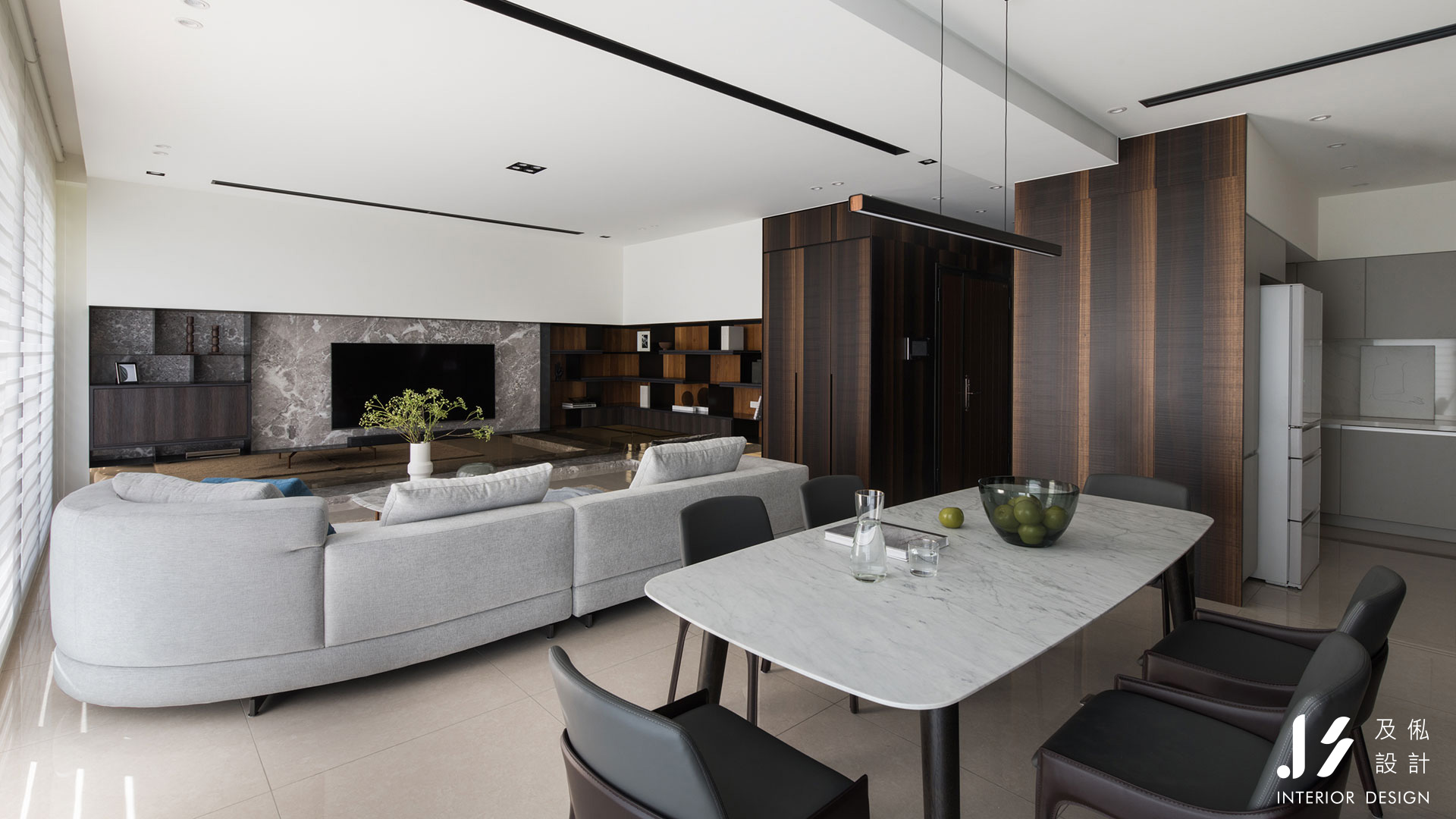 諾貝爾文學獎得主‧法國著名作家羅曼‧羅蘭曾言:「藝術的偉大意義,在於它能顯示人的真正感情、內心生活的奧秘與熱情的世界。」
藝術是如此,空間設計更是透過創意及專業工法將人們的情感記憶投射其中,借景、借光發揮出無限但專屬於一個人、一個家庭、一個世代的方圓世界。
本設計作品位於良好地理位置,面對綿長的河岸線,一眼望去盡收遠山水光以及飽滿日光夜景。
自然條件的加分之下,觸動設計師搭配光線而生的設計靈感。
委託的業主為一家四口小家庭,原有基地格局即為四房,但配置上不甚符合業主需求,所以設計師從格局著手,規劃出多功能室加三房,放大公領域的使用區塊,讓小家庭即使隨著時光推進,產生不同階段的使用需求都能完美配合。
光這件作品的課題在於如何讓良好的景觀及採光條件更加分,讓有限度的空間擁有無限的視野。設計師選用低彩度的灰白色調打底全室,首先在氛圍上營造出優雅閒適之感。從公領域到私領域;從層架、裝飾部件到家飾品的選擇上,細品後你會發現俐落大方和溫潤的圓貫穿空間。
每個細節的雕琢,最終引導出空間的質感與秩序,而其中材質堆疊與比例層次的濃淡拿捏,就是設計師的功力所在。
這家人與及俬設計的邂逅來自對於設計風格的一見鍾情。人生總是無法逃離崎嶇泥濘,所以人們總會期待每日迎接自己疲累心靈的是一室的溫馨和舒適。除了為這些努力生活的家庭打造夢想家園,設計師更從材料上著手,不只設計空間本身,在油漆、系統櫃板材及壁材上都選擇了環保建材,除了考量居者的健康生活外,也透過作品展現永續發展的設計價值。
生活空間是個方、家人羈絆是個圓
人生在方圓之間,時而困頓時而歡欣
設計師在空間中所佈置的符號,不僅讓設計別具風格更有著一份給予居者的祝福,
當居者在生活中繞著方前進時,亦能時刻感受到家人的愛而圓滿。
Romain Rolland, a prominent French writer, and the winner of Nobel Laureates in Literature once said: "The great significance of art is basically in the world that it can show the true feelings of people, the secret of inner life and the world of passion."
Like art, in designing a world that carries the sense of boundlessness and the sense of belonging for individuals and families, interior designers project people's memories and sentiments onto spatial layout through the creative and professional use of scenery and light.
The location of this work faces the long riverbank and has a great view of mountains and rivers, during the day and at night.
The natural light inspires the designer to arrange the space in this way.
The family that owns this property is a family of four. The original design only has four individual rooms and falls short of what they need. The designer adds three additional separate rooms and a multifunctional room when allocating more space to common areas. The purpose is to meet the different needs of the family at different stages.
The main challenge of this design is to make good use of scenery and natural light to create a sense of boundless horizon in the limited space. To that effect, the designer chooses the hue of grayish white for the wall of the entire house to create an atmosphere of comfort and elegance. From common areas to private space, and from shelves, decoration to furniture, all the design reveals a constant pattern of careful balance and mellow roundness that recreates our spatial sense.
Each detail is crafted to bring out spatial quality and order. The designer's professionalism is fully displayed in the arranged layers and color ratio of different materials.
"Love at first sight" explains the family's first meeting with JS Interior Design. Obstacles and difficulties are inevitable in one's life. To have a place that is warm and cozy for people to relax after daily hustle and bustle is something to anticipate for everyone. In building the dream house for the busy family, aside from redesigning the space, the designer pays attention to the materials. For the residents' health and to practice the idea of sustainability, environmentally friendly construction materials are used for paints, walls, and system furniture.
Space for a living is a square, and in using geometry as an analogy for life, family means circle. Between square and circle is a life of struggle and pleasure.
The symbols laid out by the designer in the space characterize this work and deliver the blessing to the family. When residents move between different parts of the square, they feel the fullness of their lives because of the love from the family.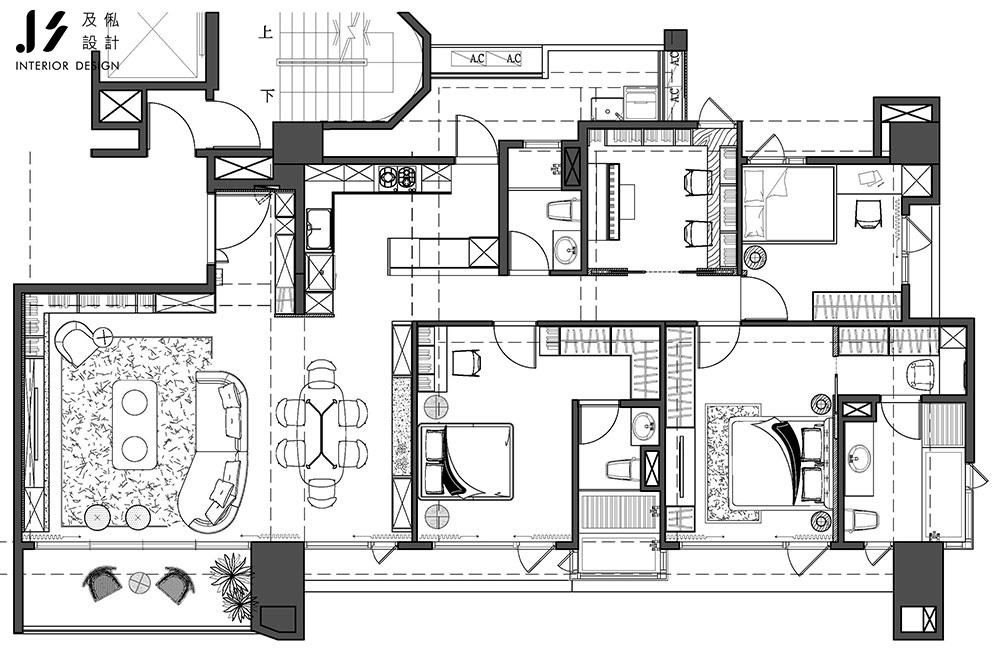 沐慕MU ∣ 74坪 ∣ 竹北