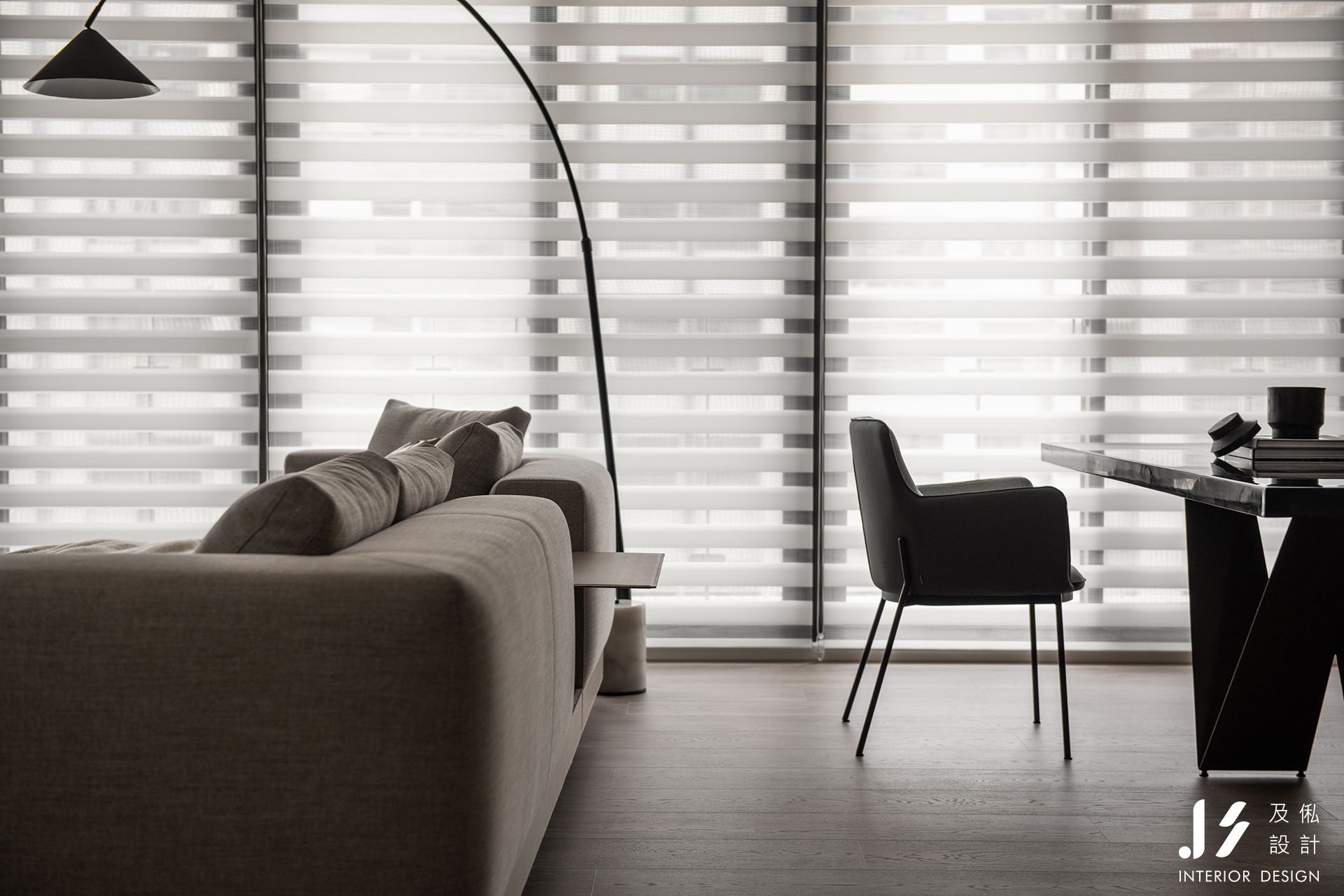 悅曲 Melody
RESIDENTIAL SPACE
知名匈牙利鋼琴家 李斯特曾說:「音樂是不假任何外力,直接沁人心脾、最純的感情火焰;它是從口吸入的空氣,它是生命的血管中流通著的血液。」
如音樂流淌於生活中帶來生命力,好的室內設計規劃亦能在日常的各種時刻讓你感受到行雲流水的舒適安逸。
位於新竹竹北的本案,是一間室內約60坪的新成屋,屋主一家四口隨著小孩的成長,需要更大的生活場域及獨立空間,所以決定換到新的居所。對這家人來說,是家庭生活第二階段的開端,有別於孩子陸續出生後的孩童時期空間上的使用皆以小小孩需求為主,所以視覺設計上整體可能相對鮮豔明亮。但當孩子們陸續進入青春期及下一個求學階段,屋主所要思考的就是如何讓家庭成員有各自的獨立空間但又保有全家人保持交流互動的場域,空間中適當的距離是這個階段的需求及課題。
以人為出發點、擅長打造現代人文風格的及俬設計莊總監在仔細聆聽屋主需求以及觀察基地優缺點後,為這家人規劃出具有時尚況味但又能良好聯繫家人情感的空間布局。
從色調開始,莊總監選用低彩度的顏色搭配藝術塗料妝點牆面,堆疊出空間的細膩質感;另外以光槽、弧形天花板的線條感增添俐落又不失柔軟的氛圍。從硬體到軟裝的視覺延伸上,選用弧形沙發搭配淡色窗簾,除了呼應色彩主題外,更修飾了窗外高樓大廈的壓迫感受,讓重點聚焦回室內的呈現。
打開格局的公領域是全家人每日的互動區域,即使每位成員有了自己的獨立空間,但不論是工作、寫作業、用餐、娛樂,大家都還是能在同一個場域中共享家庭時光,莊總監以軟裝配置區隔使用功能,一致性的色彩配置搭配大片落地窗,讓甫踏入室內時的視野為之一亮,使空間感更顯沉穩大器。
走進私領域,可看到層次感的延伸呈現。主臥以繃布增添質感紋理,同時弱化先天樑柱的壓迫感,同時在有限坪數中規劃出更衣室,增加收納空間;孩子們的房間則是以主題式牆面定調,同樣強調收納機能,並以中性的風格營造讓空間在孩子們在年紀漸長時能再依自己的喜好改造使用。
流暢且質感的設計氛圍貫穿全室,猶如一首悠揚的生命之歌,陪伴著這家人的生命歷程。
生活是有機的,空間也是有機的,在日常累積堆疊中,與居者共生成長!
Famous Hungarian pianist Liszt once said: "Music is the emotion and flame that directly refresh the bottom of heart without the help of any external force. It is the air inhaled from the mouth and the blood circulating in the blood vessel of life."
Similar to music bringing vitality to life, a good indoor design should also make one perceive the smooth comfort and coziness in all daily moments.
This project, situated in Zhubei, Hsinchu, is a housing with approximately 60 pings of interior space. As the children grow up, the family of four needs bigger living space and independent space, and the family decides to change to this new residence, which is the opening to the second phase of family life. Different from the childhood space used by infants mostly after the children were born, the visual design in general could be relatively brighter and more brilliant. However, when children grow up and enter the next study period, the house owner needs to take into consideration how to maintain independent space for each family member while retaining the field for exchange and interaction of the whole family. The proper distance of the space is the demand and lesson for this stage.
Taking people as the main consideration and specializing in building modern people style, Ji Si Interior Design Chief Director Zhuang, after listening to the demand of the house owner and observing the advantage and disadvantages of the base, has designed a stylish space that well-connects the family emotionally.
Starting from the tunes, Chief Director Zhuang selects the low-chroma color incorporated with an artistic coating to embellish the wall surface, creating the fine texture of the space. Additionally, the luminous band and lines of the arch ceiling added to a neat and soft atmosphere. Regarding the visual extension from the hardware to the furniture, the arch sofa is selected, incorporated with a soft-color curtain, which corresponds with the theme color and retouches the compression from the tall buildings outside the window, refocusing the presentation of the interior.
The shared space is the daily interactive area for the whole family, and even though all members have their own independent space, they can still share family hours in the same area, regardless of work, writing homework, dining, and entertainment. Chief Director Zhuang uses the soft installation as a partition whose consistent color corresponds with large French windows so that the view in the room is brightened and the space becomes more subtle and stable.
The presentation of space dimension is extended into the private field. The master bedroom adds texture and patterns by using upholstered wall panels while weakening the oppression of the beam and column. Meanwhile, the dressing room is designed from limited space to increase the storage space. Children's rooms are designed with themes on the wall, which emphasizes the storage function and creates space for children through a neutral style, so that children can change the uses based on their preferences as they grow older.
The smooth and quality design atmosphere runs through the interior design like a melody of life that companies the life course of this family. Life is vibrant and space is also alive-like that grows with habitats in the cumulation of life.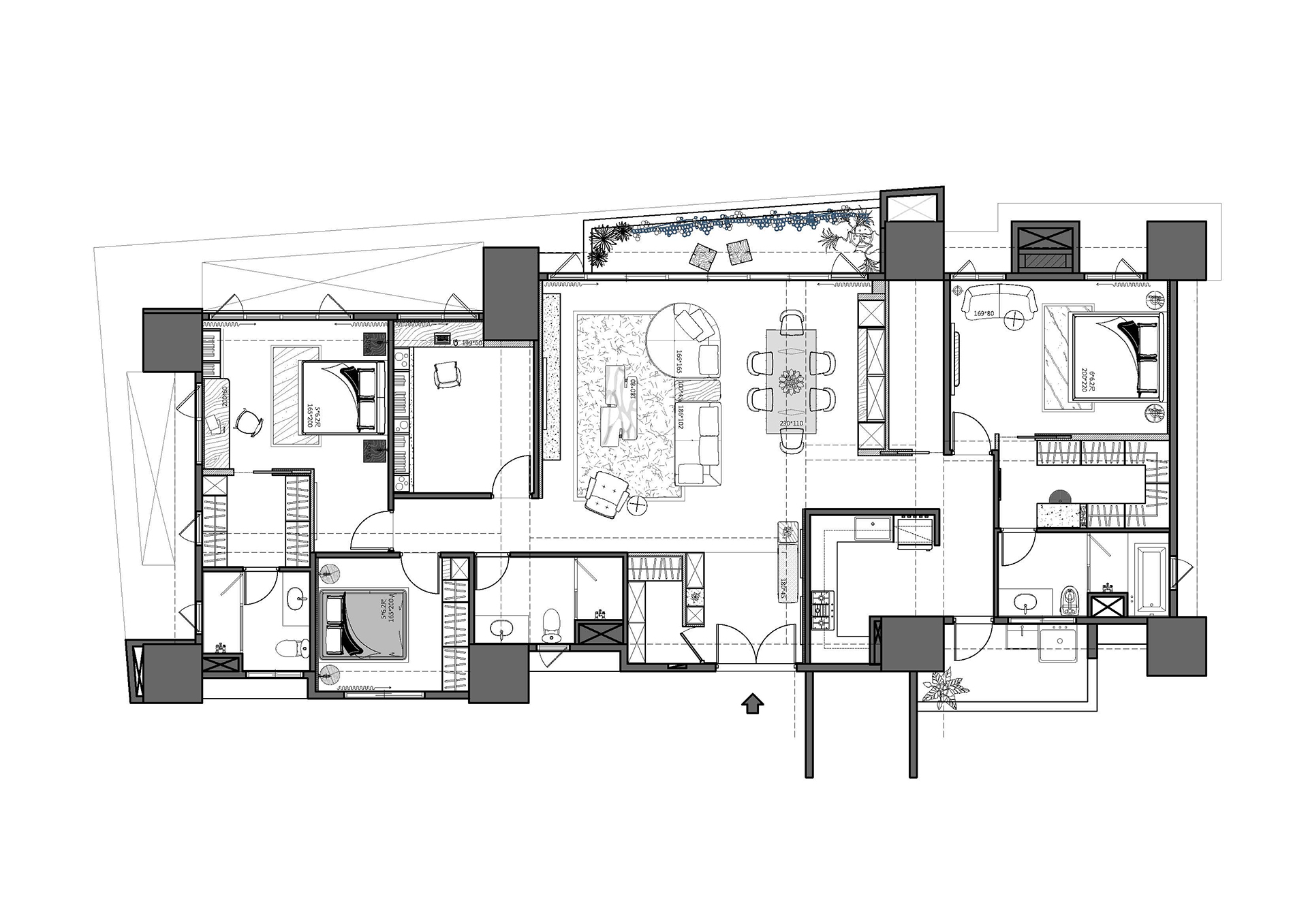 悅曲Melody ∣ 90坪 ∣ 新竹